We are all excited to welcome Ali Hogue as our incoming Science Director and Assistant Program Director!
Ali grew up in North Attleboro, where she spent her childhood exploring the woods with her dog (and visiting the Cape, of course!) Her parents now live full time in Wellfleet, where she has joined them for several summers.
Ali studied biology and Spanish at Colgate University. She researched invasive earthworms, lifeguarded, picked vegetables at a CSA farm, and sailed with Colgate's club team. She spent an unforgettable semester abroad in South Africa's national parks, where her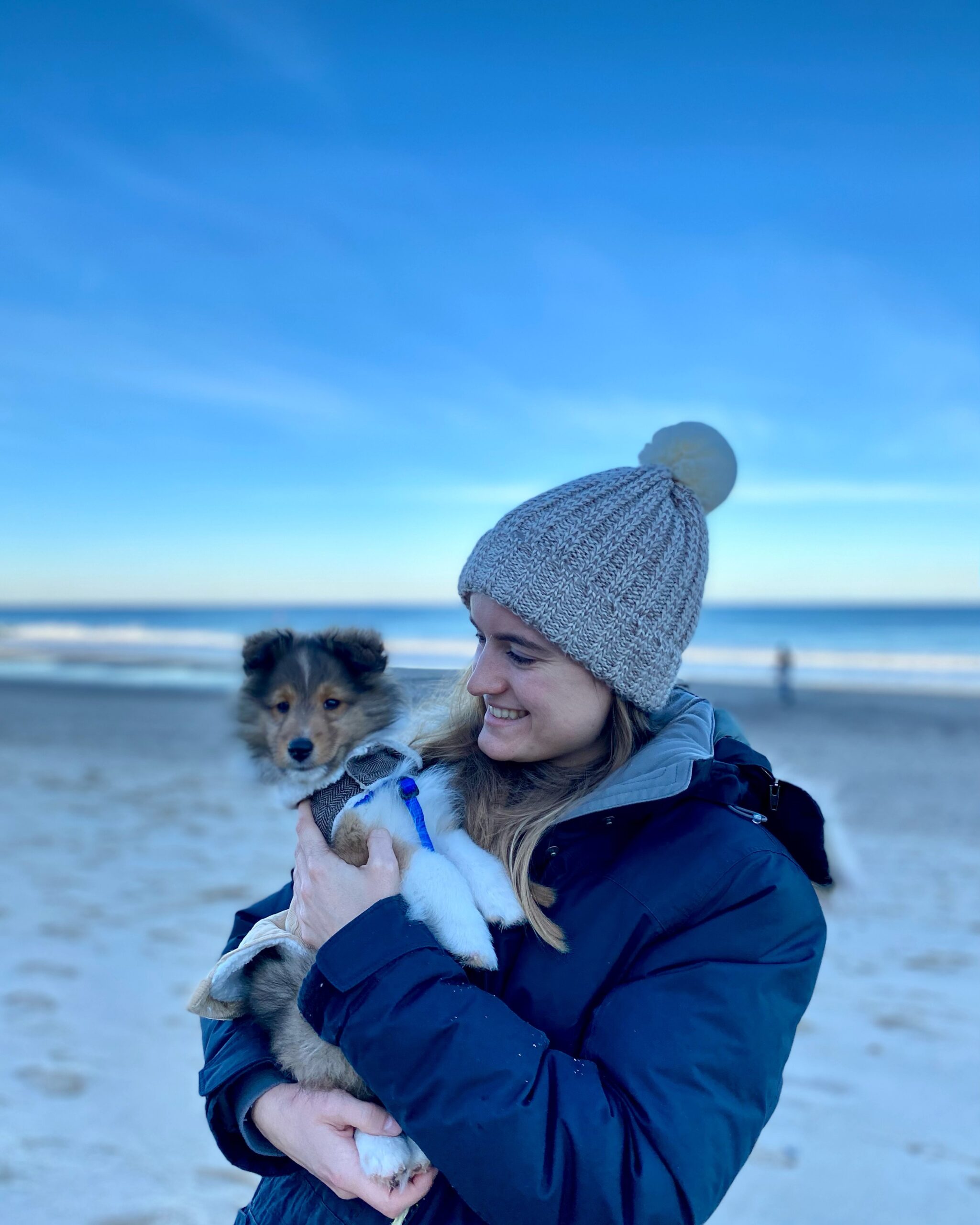 team studied everything from aquatic snails to butterflies. Ali worked at Seacamp in the Florida Keys, where she taught sailing, windsurfing, snorkeling, diving, and marine science using a fleet of floating classrooms. She also worked at Cape Cod Sea Camps for 3 summers, where she was the Department Head of Bay Sail for the day camp. She has dabbled in just about everything else…baking, boat maintenance, philanthropic work, and guiding scuba divers in Australia. She loves working with people of all ages and walks of life, especially on the water. She's a USCG Launch Tender, a US Sailing Instructor, and a PADI Divemaster.
Most recently, Ali has been living in Jamaica Plain and working in a malaria research lab at Boston Children's Hospital. While she loves JP, she is thrilled to get back to working outdoors and the Cape. Ali spends most of her time with her sheltie, Rudy. She also likes to run, cook, read, watch documentaries, fuss over her houseplants, and travel. Ali can't wait to get the PBCB community as excited about science as she is!
Ali will be leading Science curriculum development and activities and will also assist Program Director Mike Moore with program planning.  Ali can be reached at hoguea@pbcb.cc.
I've been working on our fleet of motorboats this winter, but soon the weather will break (April) and we will need to get on to boat preparation. This will require re-varnishing tillers for Flying Scots and rudders and centerboards on Sunfish; prepping and bottom-painting all Flying Scots and motorboats; and splicing mooring pennants. Many sunfish hulls need attention. So there is lots that can be done but all weather dependent.
What else can we use?
We need 6 additional 100 lbs. mooring anchors with tackle.  This would be 6 @$400 each or $2400

4 – 24" life rings with heaving line for motorboats

6 sets of boat flares @ $36 per four or $216 total

6 boat fire extinguishers @ $25 each or $150 total

10 Jibsheet: 5/16″, 30′ @ $17/ea or $165 total

6 mainsails at $399 each or $2,394 total

4 Marine Fuel Water Separator Kits including fuel line and primer bulb @$50 ea. or $200 total
If you would like to donate toward any of these items above, please click the donate button on our Home Page and type "waterfront" in the note field.  We appreciate your support!
Let's look forward to a great season and getting back on the water!
Tom Leach, Waterfront
leacht@pbcb.cc