Marine Education & Environmental Staff
Owen Nichols

Owen Nichols has been Director of Marine Fisheries Research at the Center for Coastal Studies since 2008, where he conducts research in collaboration with Cape Cod fishermen and shellfish farmers. His primary interests include distributional ecology, fisheries oceanography, marine mammal/fishery interactions, and ecosystem-based fishery management. Owen is a Ph.D. candidate at the University of Massachusetts – Dartmouth (UMassD) School for Marine Science and Technology, and a guest investigator at the Woods Hole Oceanographic Institution. He holds a B.A. in Marine Affairs from the University of Rhode Island and a M.Sc. in Marine Science and Technology from UMassD. The recipient of many awards in his field, Owen is known for his ability to instill wonder and excite about the natural world in both kids and adults. Owen is a proud Cape Cod native.
Lisa Sette

Lisa Sette has been working as a naturalist for over twenty-five years. Her love of the ocean began at the New England Aquarium, where she worked aboard their marine education boats as a deckhand and naturalist. After years of sea time and apprenticeship, she obtained a Near-Coastal 100 Ton United States Coast Guard License. Lisa completed a BA in Liberal Arts at SUNY New Paltz, and graduate course work in Natural Sciences through the Harvard ALM Program. Over the past decade Lisa has been a member of the Marine Animal Entanglement Response Team and director of seal research at the Center for Coastal Studies. She is also one of the founding members of the North Atlantic Seal Research Consortium (NASRC). Currently, Lisa is completing work in a project focused on seal diet in southeastern Massachusetts. Interfacing with scientists and people who make a living on the sea has instructed and inspired her. Lisa is most passionate about observing marine wildlife and loves to share the experience. She currently lives on Cape Cod.
Sailing Instructors
Ella Norenburg
Hello, my name is Ella Norenberg. I am 20 years old and I am currently a sophomore at the College of the Holy Cross, located in Worcester, MA. I was born and raised on Cape Cod and I started sailing when I was about 10 years old.
I started sailing on sunfish and Mercury's and quickly became obsessed. My grandpa and father both enjoy sailing and were so excited that I was the only kid in our family who took an interest in it. I hope to someday crash their boys sailing trip that they do every few years around the Bahamas. I was on the varsity sailing team for four years at my high school, Sturgis Charter Public School located in Hyannis, MA. I raced 420s and even got to represent my school in the high school Figawi race on Nantucket. I previously taught sailing for around 5 years at Cape Cod Sea Camps where I was trained as a Junior Counselor and then was hired as a day camp counselor, before the camp permanently closed. During the crazy summer of 2020, I was so lucky to be able to start working at PBCB as a sailing instructor and I had an amazing time. I am so excited to return and can't wait to spend my summer at PBCB. I am counting down the days until I can get back to teaching and sharing my passion for sailing with people of all ages.
Taylor Ruggiere
Hello! My Name is Taylor Ruggiere. I am currently a Special Education Teacher for 5th and 6th graders at the Oak Ridge School in Sandwich, Ma. I was born and raised in Brewster and understood the meaning of "beach bum" at a very early age. I currently reside in Harwich with my husband and our loving black lab Harley.
This will be my first summer working at the Pleasant Bay Boating Community where I will be running the marine biologist classroom program. I actually have worked at sailing camps before, yet never learned to sail! Imagine that! Maybe this will be the year at PBCB! Although I have never sailed before, I am quite used to the boating life. My family and I spend our summers aboard our boat. We spend countless days bass fishing and lobster right in Chatham. Any day spent on the boat is a good day.
I can't wait to meet all of you this summer. It's shaping up to be a great one!
Wendy Taylor
Hi, my name is Wendy! My family lives in New Orleans, but I've spent the last four years splitting time between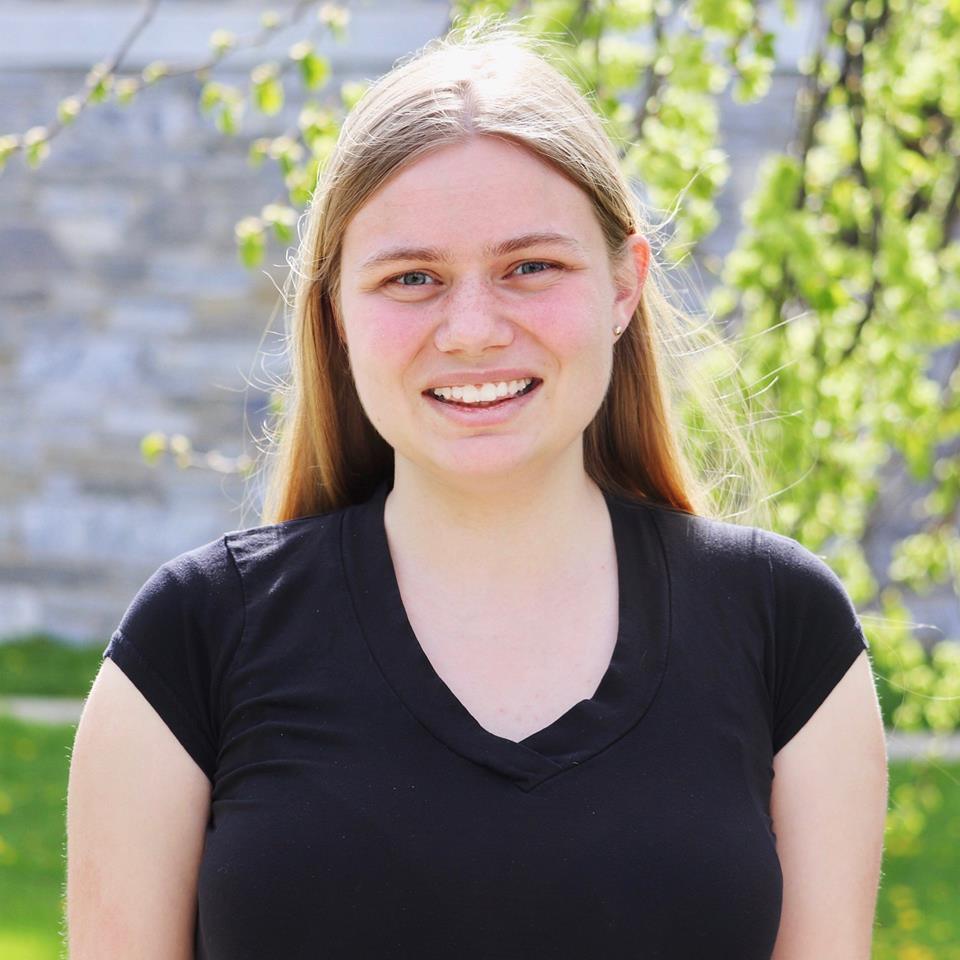 Middlebury College in Vermont and my extended family's summer base in Chatham. Sailing has been a huge part of my Chatham summers since before I can remember. I've had a blast learning and teaching in Beetle Cats, Optis, Sunfish, 420s, and Flying Scotts both here at PBCB and across the bay at CYC. I'm particularly excited to be able to be involved in PBCB's science camp. My summer camp leadership experiences are part of what led me to pursue a career in teaching. Next fall I plan to student teach in an elementary school classroom in Vermont, as the capstone to my college work. When I'm not sailing, working with kids, or both, I enjoy choral singing and folk dancing. See you on the Bay!
Adam Alto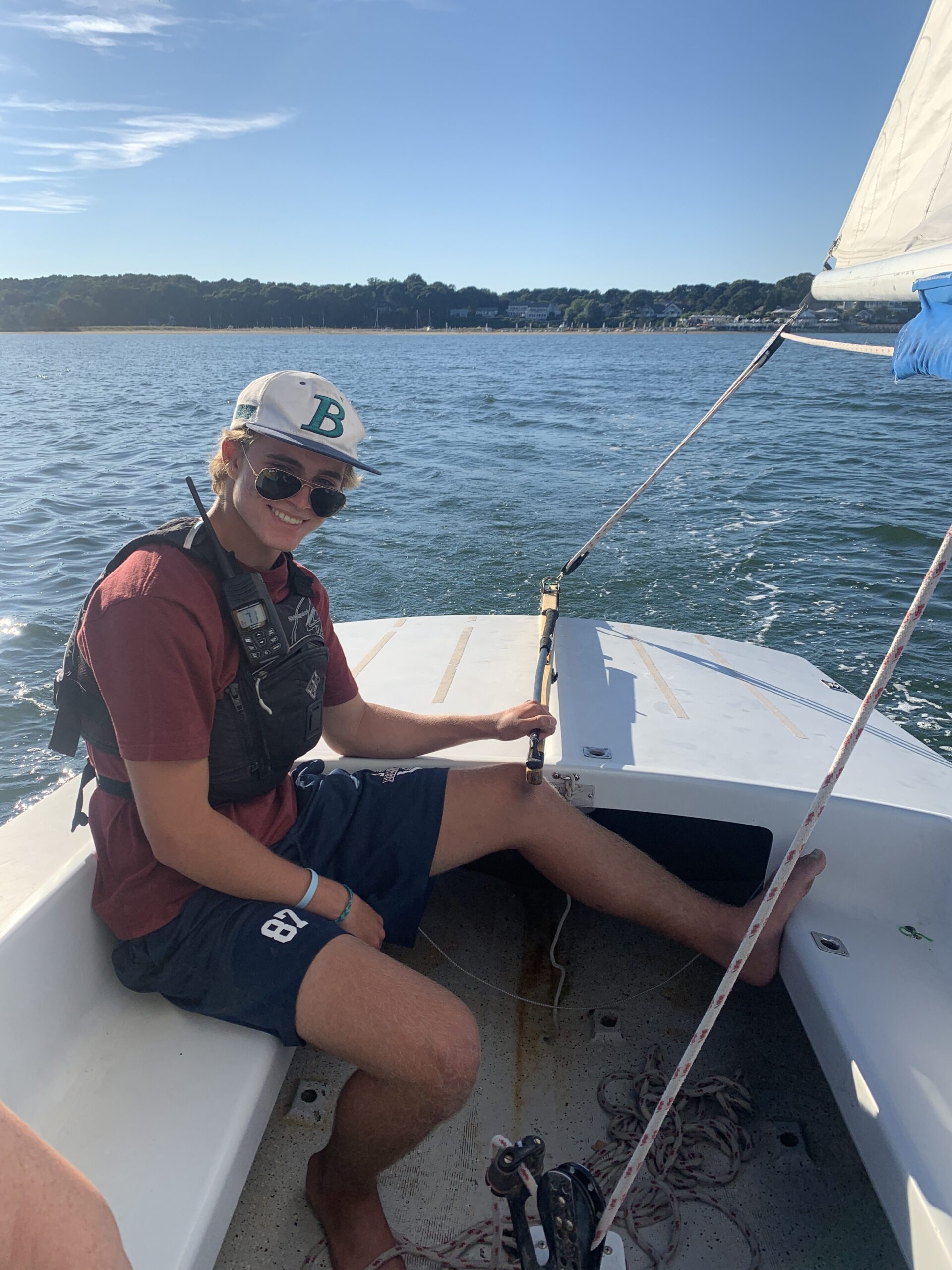 Hi, my name is Adam Alto. I am 18 years old, and I will be entering my freshman year at Dartmouth this fall. I first started sailing at Orleans Yacht Club in Town Cove and I have been sailing for as long as I can remember, which is a pretty long time. I enjoy teaching sailing while cruising around in mainly Flying Scots and Sunfish. When I am not sailing, I like to play football and ice hockey, bike, hike, play guitar, and wrestle with my two dogs. This is my third year teaching at PBCB and I can't wait to see what this season has to offer!
Calder Robbins
My name is Calder Robbins. I am 20 years old and will be entering my junior year at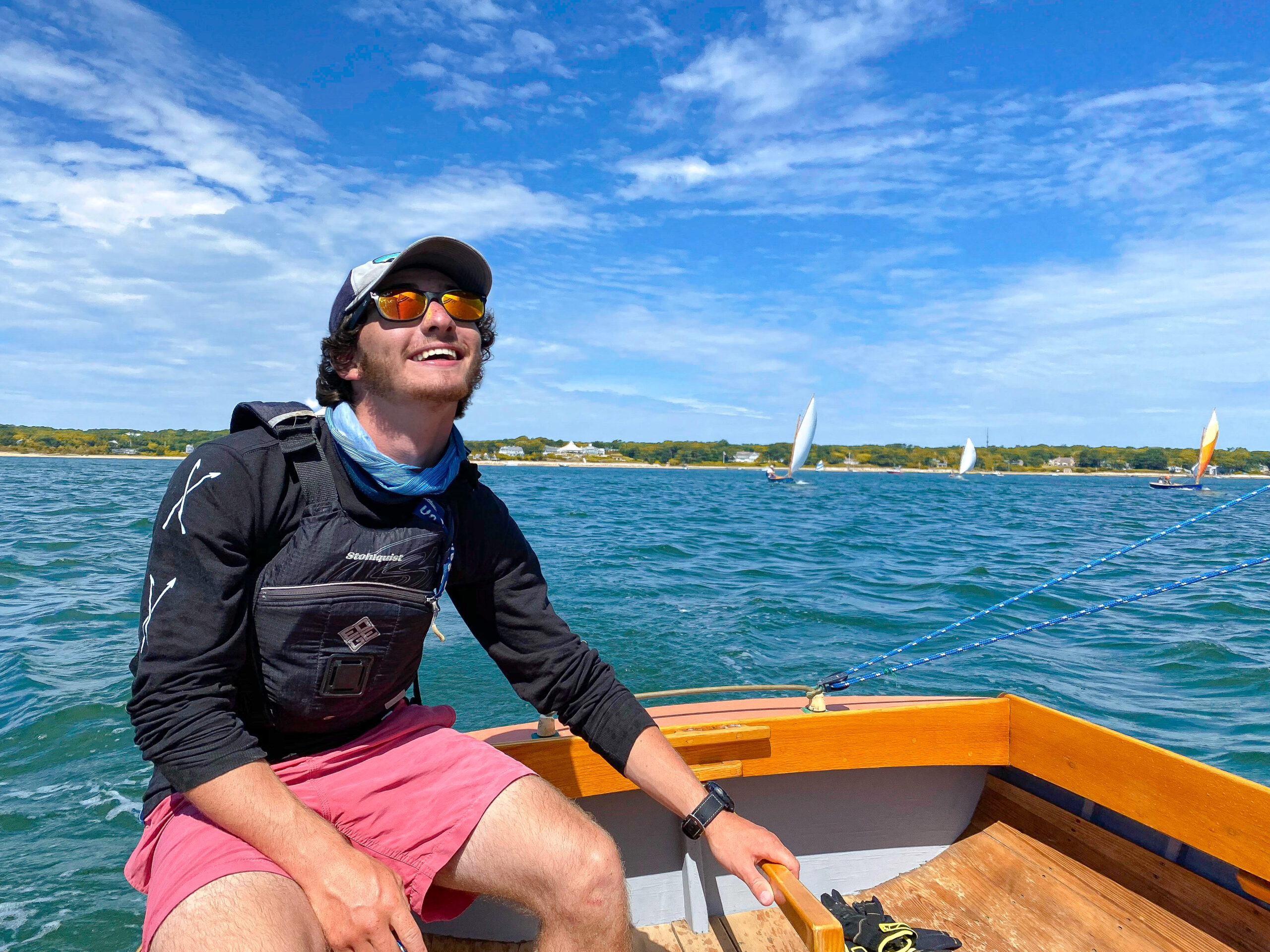 UMass Amherst in the Fall. I am majoring in Biomedical Engineering and am currently serving as the president of the UMass Fencing Team. I learned to sail at six years old in Sunfish and Mercurys at Cape Cod Sea Camps and have spent the past eight years at Chatham Yacht Club racing 420s, Beetlecats, and Lasers. I have worked as a sailing instructor in 420s, Lasers, Sunfish, Flying Scotts, Optis, Beetle Cats, and other Catboats. This is my third summer teaching at PBCB, and I'm so excited for the upcoming sailing season! When I'm not sailing—which is rarely during the summer—I spend my time fishing, biking, fencing, and photographing all of the local wildlife I can find.
Joy Pye
Hello my name is Joy!
I am currently the music teacher at St. Pius X school on Cape Cod. I'm from Orleans, but I am an avid traveler and have always had an affinity for the sea. My favorite summer pastimes include, surfing, paddle boarding and playing my guitar at the beach. Another activity that I absolutely love is sailing!
I started sailing in my hometown in optis and cat boats at the Orleans Yacht club. I sailed at the Namequoit Sailing Association for many years after that. I was on my high school's 420 racing team and as a recent graduate of Salve Regina University, I had many opportunities to sail in Newport. My favorite boats to sail are sunfish, 420s and flying Scotts.
I started working for PBCB last Summer. I was a teacher in the science classroom and a sailing instructor on the water. Both proved to be amazing, fulfilling experiences that I cannot wait to be a part of again! Sailing is such an influential pursuit. It's intense, but highly rewarding and breathtaking all at once. Here's to a fantastic summer 2021!
Sam Wyckoff
Hi! I'm Sam, a sophomore at Denison University in Ohio.
I live in Brewster year-round, and started sailing at the Orleans Yacht Club when I was a kid. Before starting at PBCB in the summer of 2020, I taught sailing at Cape Cod Sea Camps for about five years.
I spent the fall of 2020 sailing aboard SY Vela with SeaMester from the Maldives to Cape Town, SA. It was a great way to get aboard a different kind of boat and see a different side of sailing, but I'm so excited to get back to Pleasant Bay for another summer of sun, salt, and time on the water!
Michaela Selig
Hi, my name is Michaela Selig. I am 19 years and am currently attending the University of Colorado Boulder.
I first began sailing when I was in middle school. My friends from my hometown in Massachusetts got a sunfish. That summer he taught me how to sail on his boat and each time I got more comfortable doing it on my own. A few years later I went to camp and took sailing lessons with the same kid who taught me how to sail. After years of practicing I started teaching others the activity that I had grown to love. At my camp I even compete in regattas when I could because I just had so much fun being out on the water. I have sailed at PBCB as a younger kid learning to sail with my brother. My brother and I had a blast coming to PBCB every week. Over the years I have sailed Flying Scotts, 420s, Mercuries, and sunfish. When I'm not sailing I enjoy hanging out with my friends, skiing, hiking, and just overall enjoying the outdoors.
Amanda Brooks
Hi everyone! My name is Amanda Brooks —
I'm a sophomore at the University of California San Diego studying marine biology and archaeology. I'm from Richmond, Virginia but I've spent my summers sailing on Cape Cod since I was six, and love being out on the water, whether I'm racing or just spending time with my friends. I currently race FJs at college but have sailed 420s, Optis, Lasers, Catboats and Sunfish. This is my second year teaching at PBCB and I can't wait!
Hope Alto
Hi my name is Hope Alto! I am a 19 year old sophomore
at Saint Michael's college where I play lacrosse and study health science and psychology! I am from South Boston MA but I have always loved Cape Cod, and spending my summers on the water. I started sailing when I was 8 years old at Harry McDonough Sailing Center in South Boston. I then continued my education at Courageous Sailing and at Boston's Community Boating on the Charles River before joining Orleans Yacht Club for two years on Cape Cod. This will be my 6th summer teaching at Pleasant Bay Community Boating! I mainly have experience teaching in Flying Scots, sunfish, and 420s at PBCB, but I prefer to skipper a Flying Scot while instructing. PBCB is my favorite place on Cape Cod and it makes my summers so much more fun and fulfilling. I'm looking forward to meeting new people, helping others, and enjoying time on the water while serving the PBCB mission this summer!
Thomas Sykes
Hi, I'm Thomas Sykes and this will be my fourth summer at PBCB.
I'm currently finishing my first year at UVM where I'm studying engineering. I learned to sail on Cape Cod Bay in Flying Scot #8, Toccata. I love Scots and look forward to being able to use them more in our programs this summer.
Outside of sailing and school I love to ski, play tennis, and enjoy music. I'm from mainland Massachusetts but now live in Brewster where I have been spending the summer for my whole life. I have high hopes for this summer on Pleasant Bay and can't wait to get on the water.
Peter Grumbling
Hi, I'm Peter Grumbling and this will be
my 3rd summer working at PBCB as a marine science educator and sailing instructor. I'm currently a sophomore at Indiana University Bloomington studying Environmental Science in the O'Neill School of Public and Environmental Affairs. I began sailing as a little kid with my family during summer trips to my grandparent's house in S. Chatham. I have sailed with PBCB every summer since I was eight years old. Teaching sailing and environmental science is a perfect blend of my interests. I love guiding kids and helping them learn about water, land, air, biomes and climate while having fun in the outdoors. I also enjoy snowboarding, rock climbing, and cycling. I am a certified Snowboarding Instructor and work winter breaks at Breckenridge Ski Resort in Colorado. Really looking forward to summer on Pleasant Bay!
Julia Grumbling
Hi, I'm Julia Grumbling and this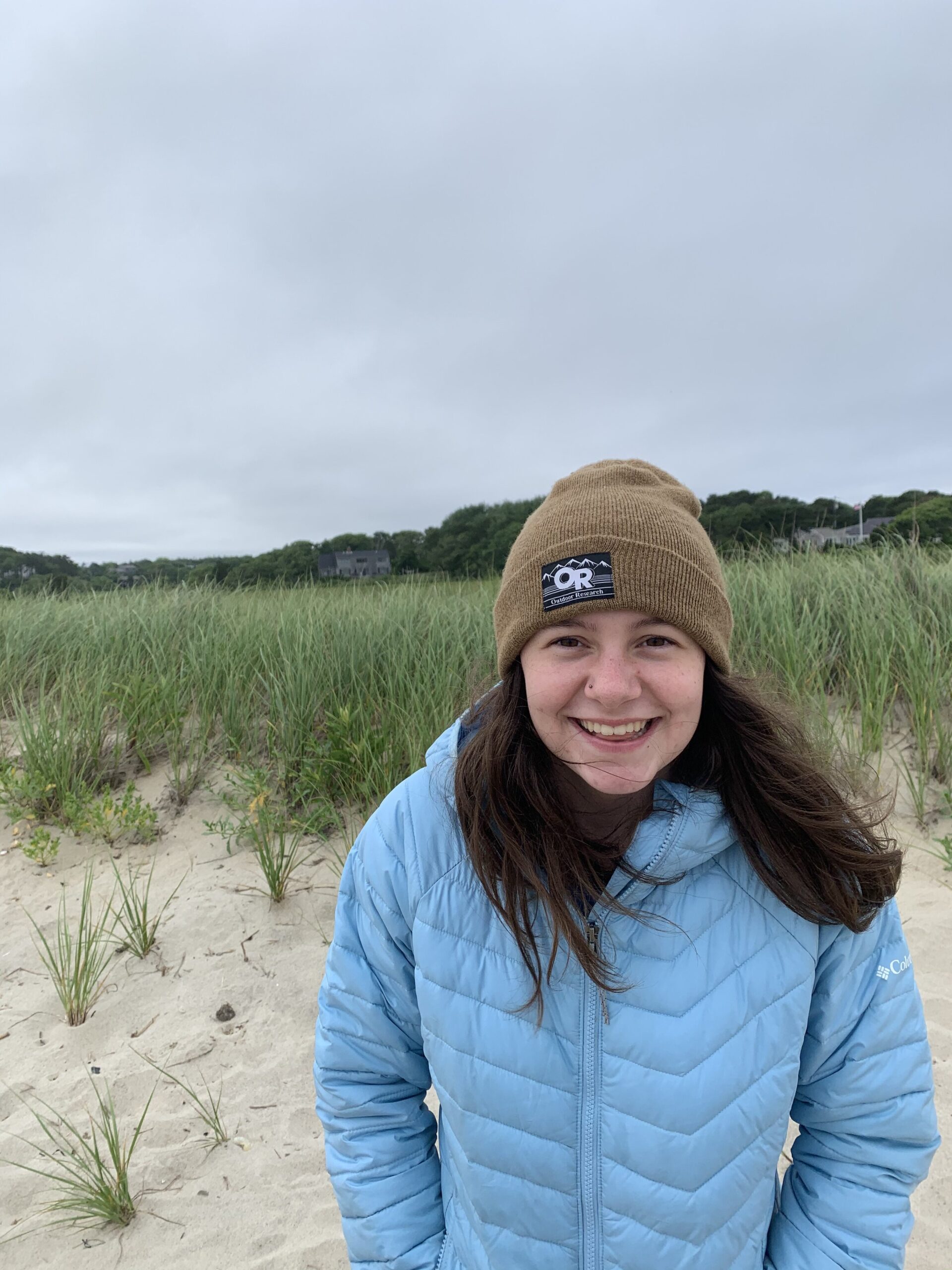 will be my first summer working at PBCB as a lifeguard. I'm currently a junior at Bloomington High School South in Bloomington, Indiana.  I have sailed with PBCB every summer since I was six years old while on vacation at my grandparent's house in South Chatham. Besides sailing, I enjoy soccer, skiing, rock climbing, ceramics, photography and working with kids.  I am looking forward to helping everyone stay safe while l earning to sail this summer.
Jessica Thompson
Hi, my name is Jess Thompson
and I'm from New York! I'm entering my senior year at Sacred Heart in Greenwich this fall, but I love spending my summers on the Cape.
I first started sailing at Orleans Yacht Club, but moved to PBCB a few years ago and I absolutely love it! When I'm not sailing, I love spending time with my friends, going to the beach, skiing, and playing with my best friend's 4 dogs! I really enjoy working with the marine science program and I can't wait to come back this summer as a lifeguard!
Abbie Wolff
Hi, my name is Abbie, and this will be my second year working at PBCB.
Before PBCB, I taught sailing for many years at Cape Cod Sea Camps. Last Summer, I ran PBCB's first Junior Intern program. I loved working with so many talented young instructors and can't wait to see them on the water this Summer!
This Summer, I am working for United Way Worldwide's International Network Engagement Team during the day and for PBCB at night. I'm thrilled to be involved with two non-profits! In the Fall, I will enter my last year at Hamilton College to finish my Bachelor's Degree in Government and History.
Besides sailing, I run hiking trips in the Adirondacks and teach snowboarding in Vermont. On the Cape, you can find me on the Rail Trail or visiting the Snowy Owl chickens. I feel so lucky to work at PBCB — the friendliest and most beautiful place on Earth.