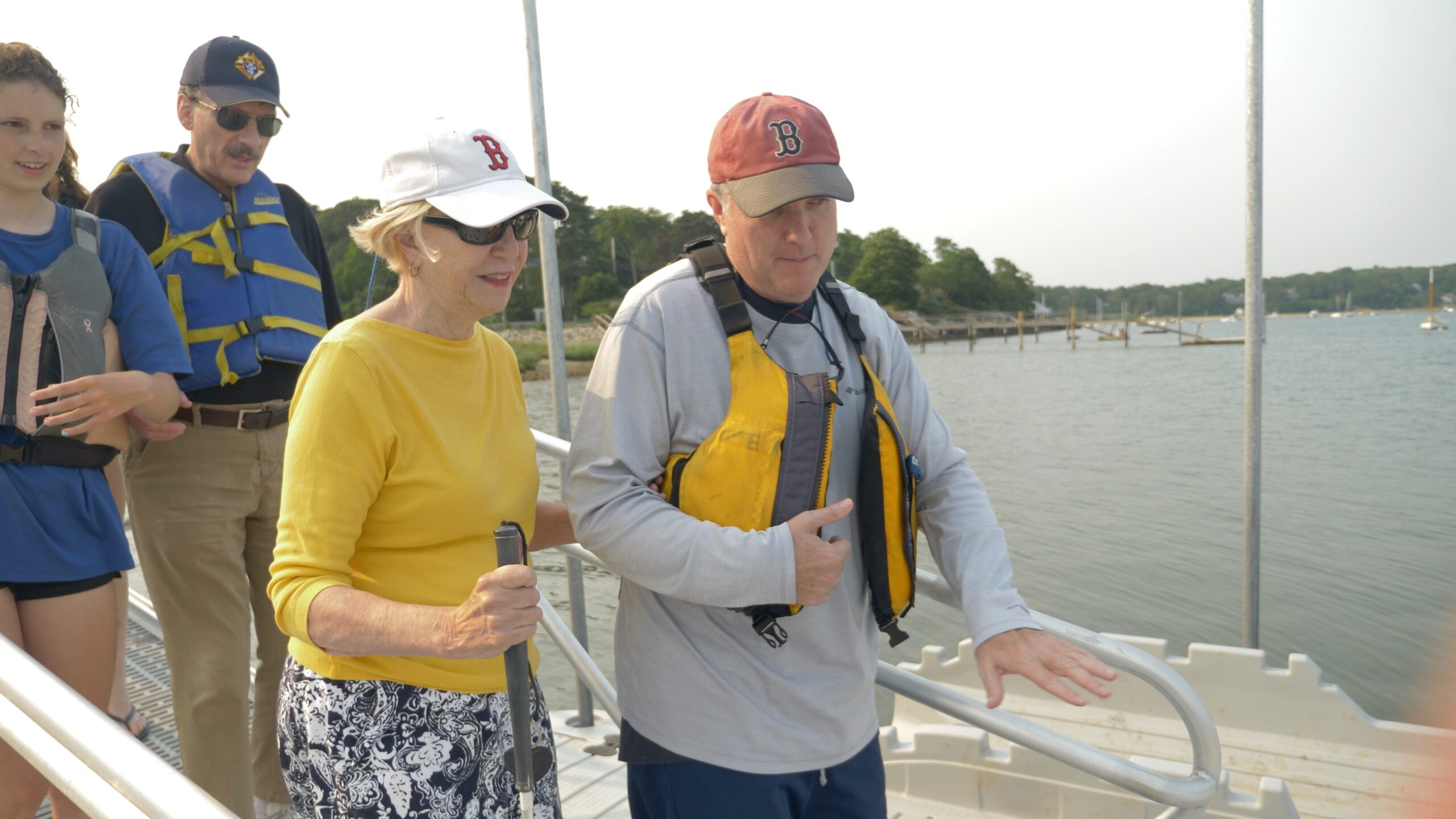 Sailors, sighted guides, instructors, and beautiful evenings on Pleasant Bay!
Weekly, Tuesday evenings in July and August, 5 PM – dusk
Our BVI sailors meet weekly to enjoy a sunset cruise. Our instructors teach blind or vision-impaired sailors to skipper and crew using our Flying Scot fleet. The Scots have a comfortable cockpit area with bench seating that can accommodate up to 6 people. Upon arrival, a sighted volunteer will meet each participant and guide them to our dock. Participants will transfer to a Scot that is tied broadside to the dock, or may opt to enjoy the short powerboat ride to their moored boat as they become more comfortable.
Safety is always a top priority–our instructors and sighted guides will have all received specialized training. Most or all of our BVI instructors hold US Sailing Level 1 Instructor certifications with an adaptive endorsement. 
This program provides a wonderful opportunity for sailors, staff, and volunteers of all ages to enjoy a sunset sail together.
For more information or to sign up, contact Mike Trovato.
"I am writing to acknowledge the wonderful opportunity that PBCB has given me through the Blind and Vision-Impaired Sailing program.  I had always wanted to learn to sail, but when I lost my sight in mid-life I never thought I would be able to. I remember the first time I stepped aboard a sailboat in the summer of 2016 at PBCB.  I was a bit nervous walking along the age-old dock with my sighted guide, but once I stepped onto the Flying Scot it was like I had come home!  The instructors were wonderful.  I quickly learned the parts of the boat and some general sailing terms.  Once out on the water, things got a little more challenging as I learned to judge the direction of the wind, how to steer with the tiller, and how to maneuver the sail.  I gained confidence and sailed again during the summer of 2017, continuing to learn and refine my skills.
I would not have had the opportunity to learn to sail were it not for the generosity of PBCB.  This free program has meant the world to me.  It has broadened my horizons and introduced me to new challenges.  It has been a real adventure!"
With appreciation,
Carla Burke