Summer Speaker Series: "The Life of Terns: Birds of Paradox" with Peter Trull, Author and Naturalist
Our Summer Speaker Series Continues!  July 6, 2018, 4:30-6:00 pm
The Arctic Tern is a special bird that travels incredible distances — it makes the journey from the Arctic to the Antarctic and back again every single year.
What's even more impressive is the Arctic Terns' size — it weighs just 100g (about the weight of 20 nickels!), has a body length of about one foot, and a wingspan of about two feet! Join Peter Trull as he weaves his story about these amazing birds and their important place in our local ecosystem.
Author Peter Trull has been involved in field research and education on Cape Cod for 40 years. He conducted field research in Guyana and Surinam, studying the market-trapping of Common and Roseate Terns, working with local bird trappers in several coastal villages. He served as Education Director at The Cape Cod Museum of Natural History and the Provincetown Center for Coastal Studies and presently teaches at the Cape Cod Lighthouse Charter School. He has written six books on the Cape's natural history, describing the lives of coywolves, cetaceans and his lifelong passion, birds.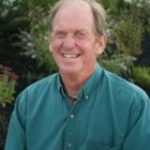 One reviewer of Mr. Trull's most recently published book,
The Gray Curtain
notes: "Peter Trull is a world class naturalist and the go-to expert for all things wild on Cape Cod. In this fascinating book, he explores the complexity of cause and effect in a natural ecosystem as three of the ocean's top predators converge on Cape Cod." His newest book
The Life of Terns – Birds of Paradox
, will be released in 2019.