PBCB's Residential Cottage Program Makes Magic for Visitors
Go sailing, live simply, dream extravagantly.
Roz and Bill Coleman, frugal visionaries with an eye for preservation, taught their children boat maintenance, home renovation and restoration skills, long before DIY became a thing. Now, with their daughter Natalie, they lead a group in charge of maintaining the waterfront cottages at PBCB. Square Top and South Cottage provide the opportunity for members to come and enjoy the bay with family and friends. In their free time, this multi-generational DIY family spends the majority of their summers sailing on Pleasant Bay. The cottages are known for their laid-back charm, stunning views of Pleasant Bay, and capacity to house large families. Members who have participated in this unique program continue to sing the praises of their experience "on the Bay," often referring to it as "magical."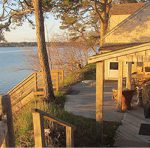 The nautical cottages provide the perfect backdrop for multi-generational families or friends to gather in an old Cape Cod style waterfront setting. Guests enjoy a membership to PBCB and ample opportunities to sail or kayak. The Colemans embrace the uniqueness of the McClennen estate cottages, maintaining the balance between the simplicity of old Cape Cod and the comforts of beachside living. Perhaps the success of the cottages is summed up best by a vacationer who submitted this review:
This has been a magical week – reminiscent of my childhood summers in Chatham – playing in the water, jigsaw puzzle on the table, lots of quality family time. The view is spectacular and has filled each of us with a tremendous sense of gratitude for this special experience. One of the greatest aspects of staying here is watching Pleasant Bay Community Boating in action. Each morning children and their instructors march past our cottage on their way to set sail on Pleasant Bay. For some it may be a first, others are more seasoned. Yesterday, folks from Cape Abilities were here for their sailing instruction. This wonderful organization is not only providing the gift of education and time spent on the water, but also continuing the rich tradition of sailing on Pleasant Bay.
For details on Square Top, click here.
For details on South Cottage, click here.