Meet our tireless and talented staff.
Executive Director: PJ Richardson
PJ Richardson was hired in 2019, having previously been the Chief Development Officer for YMCA Cape Cod.
He is excited about joining PBCB at a time when the organization is poised to enter new levels in its recreational boating, environmental stewardship and marine education programs. "The new Floating Classroom (and the Accessible Dock, when ready) will allow kids and adults access to brand new areas of Pleasant Bay. We're going to be creating unique learning experiences for people who might not otherwise have the opportunity—the kind of wonderful experiences that stay with you forever."
PJ's strong background in youth development, environmental education, adventure programming and community outreach makes him a perfect fit for PBCB.  PJ is a devoted husband and father of 4.
Sailing Director: Greg Kelly

A founding member of Pleasant Bay Community Boating in 2003, Greg has a long list of sailing accomplishments. He spearheaded the formation of the Chatham and Nauset High Schools' sailing teams, and has coached the Chatham High School Sailing Team since its inception in 1996. He continues to coach the Monomoy Regional High School team, which now sails out of PBCB. He was president of Southern MA Yacht Racing Association, 2000-2001, and the Commodore of the Orleans Yacht Club, 1989-1991, to name only a few a few of his community involvements. Greg earned his BS in education at the University of Maryland and did further study at Bridgewater State University, specializing in technology education.
Greg has raced Speculation, his Hunter 25.5, in the annual Figawi race every year since 1986, where he has won his class and placed many times in the top four. Greg has sailed in many regattas around the Cape, including Hyannis Regatta, Edgartown Regatta, Buzzard Bay Regatta, and the Race Around the Cape. To mark his retirement from Chatham High School, Greg and his wife sailed their boat down the Intracoastal Waterway to Key West, FL.
In addition to PBCB's regular complement of sailing programs, Greg has captained our adaptive sailing programs (Special Olympics Sailing and Cape Abilities Sailing) for cognitively impaired youth and adults, and in recent years has introduced more than a thousand area third graders to sailing on Pleasant Bay through PBCB's First Sail program. Greg's goal for the PBCB sailing programs is to share his deep love for and extensive knowledge of the art of sailing with new generations of young people, and with others at all ages and stages of sailing ability.
Science Director: Sarah Griscom, Ph.D.

Sarah grew up in California and was fortunate to spend summers with her family in Chatham, sailing and swimming almost daily. She learned to sail in a wooden Spaulding Dunbar catabout, then moved on to fiberglass Sprites and Daysailers, and then to her souped-up 470. During her Cape Cod summers, Sarah came to love the edge of the sea, searching for unusual shells on the wrack-line, testing the limits of the surf, scuba diving on the remnants of shipwreck Pendleton, and exploring remnants of older wrecks exposed in the dunes.
Sarah studied Earth and Marine Science at the University of California Santa Cruz, where she earned a BS. She worked for the US Geological Survey Marine Geology branch for eight years, spent two years+ on research vessels, and when in port, participated in public education outreach activities. She returned to graduate school to complete her PhD in Coastal Oceanography at Stony Brook University, focusing on how stable and radioactive contaminants accumulate in mussels and clams. Since then, she has worked as a research fellow at the Harvard School of Public Health, collaborated with the Institut de Radioprotection et de Sûreté Nucléaire (IRSN) in France, taught undergraduate oceanography as an adjunct faculty member, taught high school sciences, and gained her MA teaching certificate in chemistry. She is certified as a LEED AP for sustainable building, teaches courses in green energy, and currently works part-time with the Town of Chatham as a water quality scientist. She joins the PBCB community to work side-by-side with those dedicated to making community sailing and hands-on marine education accessible to all. She was named PBCB's Director of Science in 2016.
Property Manager: Huntley Harrison

Huntley Harrison has been involved with PBCB since 2010, as treasurer, board member, and property manager. Huntley grew up in New York City and has lived on Cape Cod since 1999. His educational background is in mathematics, with a Bachelor of Science degree from Hobart College and a Master's Degree in Instructional Technology from Bridgewater State University. He was a teacher for 30 years at Blair Academy, a co-educational boarding school in New Jersey; and he finished his teaching career serving 14 years at Chatham High School, retiring in 2013.
Huntley's involvement at Pleasant Bay Community Boating expanded to that of treasurer and project manager when PBCB purchased the McClennen property in 2014. He now ably serves as property manager and bookkeeper for our facilities and operations. He is involved outside of PBCB as the Chairman of Chatham's Cable Advisory Committee, and he is the producer of Chatham Today, a monthly cable TV program. He is also on the Chatham Airport Commission.
Huntley is wholly dedicated to PBCB's mission and the sense of community and accessibility we are creating on Pleasant Bay.
Development Coordinator: Abby Field
Abby grew up sailing with her grandfather out of Quisset Harbor in Falmouth and exploring the lakes and rivers of Maine by canoe and kayak. She brings her commitment to exploration and the outdoors to PBCB and is passionate about marine education and affordable sailing opportunities for local families. In addition to being a classical pianist, piano teacher, and mother of three, Abby has owned a natural-light photography studio and worked as a photo journalist. She makes time to be on the water as much as possible. In her work at PBCB, Abby values being part of the community that PBCB brings together, people who love being on the water and who want to learn to take care of our waters.
Abby has studied with the New York Institute of Photography and the Institute for Integrative Nutrition, as well as studying and performing throughout New England as a pianist.
Curriculum Developer & Naturalist: Peter Trull
Author Peter Trull has been involved in field research and education on Cape Cod for 40 years. He conducted field research in Guyana and Surinam, studying the market-trapping of Common and Roseate Terns, working with local bird trappers in several coastal villages. He served as Education Director at The Cape Cod Museum of Natural History and the Provincetown Center for Coastal Studies and presently teaches at the Cape Cod Lighthouse Charter School. He has written six books on the Cape's natural history, describing the lives of coywolves, cetaceans and his lifelong passion, birds.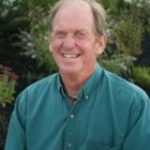 One reviewer of Mr. Trull's most recently published book, The Gray Curtain notes: "Peter Trull is a world class naturalist and the go-to expert for all things wild on Cape Cod. In this fascinating book, he explores the complexity of cause and effect in a natural ecosystem as three of the ocean's top predators converge on Cape Cod." His newest book The Life of Terns – Birds of Paradox, will be released in 2019.