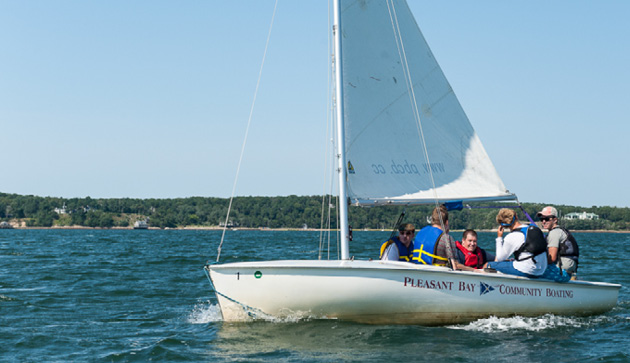 Come on down and join the crew!
Please feel free to stop by and visit anytime! In addition to our robust summer schedule, we are a year-round organization offering a number of special programs and events throughout the year. We invite you to drop by, take in the view, and have a tour of our wonderful campus. We look forward to meeting you!
Get in touch
Associate Director of Advancement and Operations: Abigail Field  fielda@pbcb.cc
Science Program Director:  Sarah Griscom  griscoms@pbcb.cc
Waterfront Director:  Tom Leach  leacht@pbcb.cc
Call us 508-945-SAIL (7245)
Summer season
June 26 – September 1
Office hours – 9:00am – 5pm, Monday – Friday
Waterfront hours – 9:30am – 7:30pm, Monday – Sunday
Fall Season
September 2 – October 1
Office hours – 9am – 3pm, Monday – Friday
Waterfront hours – 1pm – 7pm
Location
Pleasant Bay Community Boating is located on the Pleasant Bay waterfront where the towns of Harwich, Brewster and Orleans, Massachusetts meet, on the east coast of Cape Cod. The largest estuary on Cape Cod and a jewel of the Eastern Seaboard, Pleasant Bay is a protected embayment which provides the perfect setting for boating, marine exploration and learning opportunities for people of all ages and stages.
Campus and Directions
Find us at:
2287 Route 28, Harwich, MA 02645
By car: From Rt. 6, take Exit 11, turn south on Rt. 137 toward Chatham, and turn left immediately onto Pleasant Bay Road. Follow to the end. Turn left on Rt. 28, proceed 4/10 of mile to PBCB entrance and parking on right.
Drop-off, pick-up & parking
If you are dropping off a student, turn into parking lot and continue around to the right. Stop at the base of the first driveway on right at bottom of hill. If you are the student, please park in a spot as available. Please note that Route 28 is a busy road, which should never be used for walking or student drop-off and pick-up.