Orleans Pond Coalition held its annual "Celebrate Our Waters" festival on September 15-17, and PBCB played a starring role. During this weekend of free events and activities focused on the beauty of our waters, we were delighted to provide free sailing to 60 festival participants, many of whom had never sailed, been on Pleasant Bay, nor visited our campus. We all had a blast!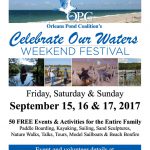 Among those sailing with us was a journalist who set out for her very first sail, accompanied by PBCB volunteer Steve Najarian. She describes her adventure in this
Cape Cod Chronicle article you can read by clicking here.