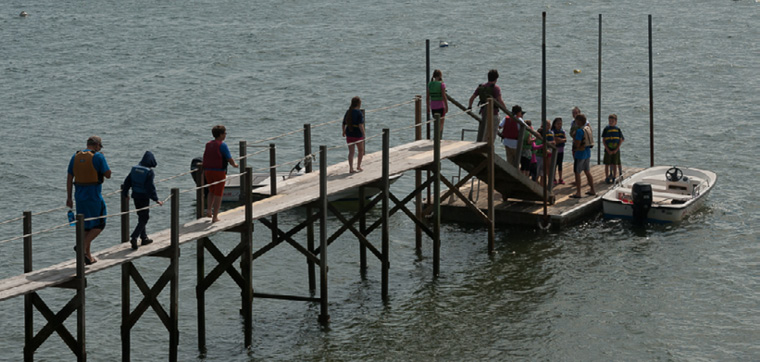 Sailboat and Kayak Reservations
Rules and Regulations
Rental Procedures
We encourage you to book your rental online and in advance. Especially during our busy summer season, slots fill up quickly! We cannot guarantee slots for walk-ins. We update our booking system frequently, so you will see any available boats on our website.
Upon arrival at Pleasant Bay Community Boating, please meet our staff in the boathouse. Follow signs for "boathouse and dock" from our main parking lot.
All renters need to complete a signed PBCB Program Liability Waiver prior to use of any of our boats. We encourage you to bring a signed copy with you, so that we can get everybody on the water quickly. If you don't have a printer, don't worry: we do keep extra copies on hand.
Rules and Regulations
All recreational boaters and passengers are subject to the rules of Pleasant Bay Community Boating. Failure to comply with the following regulations may result in loss of your rental or pass:
Personal Floatation Devices (PFDs) must be worn at all times while on the PBCB dock or on the water. We have a supply to choose from if you don't have your own.

Water shoes, boat shoes, sneakers, or sandals with an ankle strap (such as Tevas or Chaco's) should be worn at all times while on PBCB campus, boats, and dock. Wearing flip flops or shoes that may slide off can be dangerous!

Beaching and landing of all PBCB boats is prohibited, except in an emergency situation.

PBCB is a smoke-free campus. Smoking and alcohol are not allowed on PBCB boats or dock.

We have two sets of recreational boating boundaries, shown on the maps below:

Sailboats must remain in "Big" Pleasant Bay, which is bounded by Sipson Island, Little Sipson Island, and the shallows to the northwest of Strong Island. We also encourage you to stay away from the powerboat channel that runs just outside of the red line. See map below.

Kayaks must remain between the red boundary line and shore, as marked on the map below. Difficult to see and riding low and in the water, kayaks must not cross through the middle of the bay to avoid collisions with power boats.
Weather and Cancellation Policy
All rentals will be cancelled if sustained winds exceed 15 MPH. If you wish to sail a catboat in winds between 10-15 MPH, you must know how to reef! We will also delay or cancel all boating in the event of thunderstorms or dense fog. Please check your phone and email if you have rented a boat, as we will call and email if we need to make changes to your reservation due to weather. In this event, we are happy to reschedule your booking OR refund your credit card or Pleasant Bay Pass.
Check the following weather sources before your visit: Willy Weather, Windy, NOAA, PBCB website.
If you choose to cancel your booking, we ask that you notify us via phone or email 48 hours in advance. This allows us to make staffing adjustments and offer your slot to another customer within a reasonable timeframe. We are not able to honor refunds for no-shows.
Boat Rental Agreement