Our dreams are as big as our bay is wide.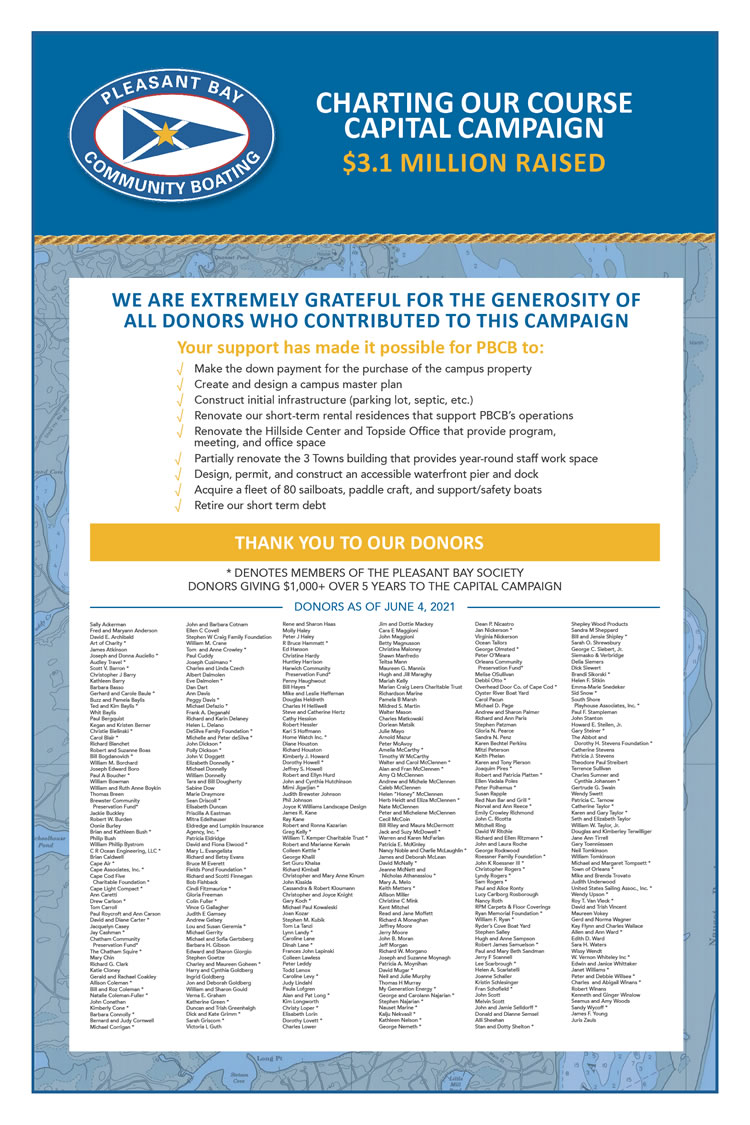 With your help, our campus is becoming a vibrant community hub for boating, environmental education, and bay stewardship. This is a community resource that is shared with residents and visitors to the Pleasant Bay region.
With a generous loan from the Cape Cod Five Cents Savings Bank, PBCB acquired the McClennen property in late 2014. In less than six months, we raised more than $1 million necessary to secure the down payment and complete preliminary engineering, permitting, and construction projects.
We have now closed out a full-scale multi-year Phase 1 capital campaign – Charting Our Course – to raise $3.1 million for acquisition, rehabilitation, renovation, and repurposing our buildings, grounds, and facilities, and make possible the realization of our campus master plan for a multi-faceted community resource.
With philanthropic support from organizations, businesses, local municipalities and visionary individuals like you, we are creating a vibrant community resource that will enrich the lives of residents and visitors for generations to come.
Donor Recognition Levels
The Pleasant Bay Society  honors donors contributing $1,000+ over a five-year period.
Make your pledge today.
| | |
| --- | --- |
| Benefactor $1,000,000 | Steward $10,000 – $24,999 |
| Founder $500,000 – $999,999 | Leader $5,000 – $9,999 |
| Patron $100,000 – $499,999 | Associate $2,500 – $4,999 |
| Visionary $50,000 – $99,999 | Friend $1,000 – $2,499 |
| Ambassador $25,000 – $49,999 | |
Naming Opportunities for Phase II
Hillside Center – $500,000
Located at the main entrance of the campus,this building will be used for program and administrative purposes.  The upper level will include year – round program space, a kitchenette, a patio, and an accessible restroom. The lower level will be used for program support in the summer and the boat shop in the winter.
Accessible Dock and Walkway – $300,000
The existing pier will be renovated to be handicap-accessible for people who use wheelchairs or have other mobility issues.  Handicap-accessible walkways and paths will integrate the dock with the Campus.
Topside – $100,000
Located on the bluff overlooking Pleasant Bay, this building serves as our seasonal program registration and administrative office.
Phase III Naming Opportunities
Center for Pleasant Bay – $1,000,000
Located in the towns of Orleans, Harwich and Brewster, this blufftop facility will house Pleasant Bay Community Boating's administrative offices, meeting halls, and space shared with affiliated environmental organizations.
Pleasant Bay Boating Center – $500,000
Adjacent to the Boathouse and Dock, this facility will serve as the center for PBCB's boating programs.
Boat House – $250,000 Reserved
This structure, located at the base of the PBCB pier, will house watercraft and equipment serving boating and marine education programs.