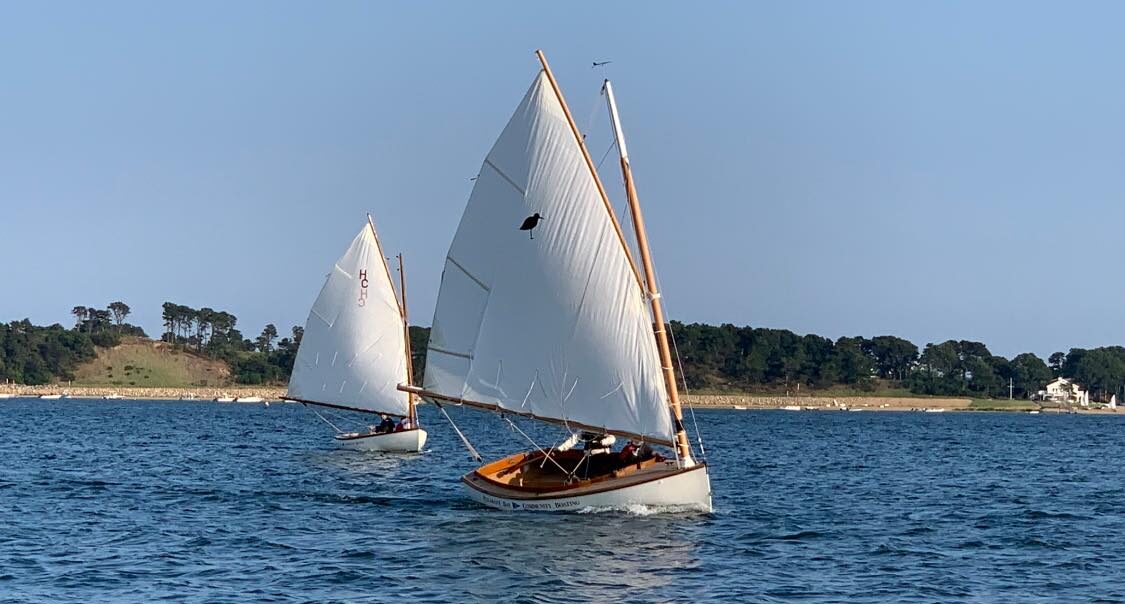 The quintessential Cape Cod sailing experience
Sign up for Wednesday night racing
Using the uniquely versatile catboat as our vessel of choice, the Catboat Program focuses on developing sailing skills through a series of courses designed to help participants reach their potential regardless of their previous experience. 
Catboat Program Director, Suzanne Leahy, brings her love of sailing and catboats together to create a community of PBCB catboaters. The program is continually evolving to include a series of skills levels, a Wednesday racing series, participation in sailing events and Bay-wide catboat cruises; the goal of the program is to foster independence and confidence. 
Given a limited time to teach such a deep subject, the level of instruction needs to be the best. Last summer, Chris Smith joined the program as a volunteer instructor, and along with staff instructor Peter Grumbling, they raised the bar considerably with their knowledge of sailing, their passion and their easy-going teaching style. Chris will continue as a catboat instructor in a more official capacity. We hope that Peter will return despite graduating from college and all the pressures of career that might bring. Our core of volunteer catboat instructors will continue to step in to fulfill the needs of the program.
Our fleet of Marshall Sandpipers is the foundation of the program. They are a versatile teaching boat having all the wonderful catboat characteristics: stability, large cockpit and ability to shorten sail. Our fleet is well-maintained, and all equipment is updated annually as needed. It is from this solid foundation that our instructors can successfully teach!
Catboat classes and programs are open to adults 18 years or older and run from mid-June through Labor Day. Please direct questions about the program to Suzanne Leahy at catboats@pbcb.cc or 508-245-4688. For help with class registration (Levels 1-3), please contact Registrar Ellen Peterson: info@pbcb.cc or 508-945-7245.
Stay Connected
The Catboat Newsletter is emailed weekly throughout the summer and monthly off season. This is a fantastic resource for keeping up to date with events, seminars, and workshops. Program participants are automatically included in the mailing list but we invite anybody interested to sign up here.
Beginner
The beginner course is open to anyone who has never sailed, or needs a refresher, and sailors with some experience who have never sailed a catboat. The course runs for four consecutive days and allows participants to experience varying weather patterns and instructor styles while learning basic sailing principles. This course is a wonderful introduction to the world of catboat sailing. 
Intermediate
The intermediate class expands on the building blocks you've begun in the first course. This course dives a little deeper over three consecutive days. Since everyone's sailing skills differ, our instructors tailor their instruction specifically to each person, matching pairs to optimize the individual experience. Keeping in mind that the goal is independence and confidence, some folks will be ready to set sail as skippers, and some may need more time. Sailing is a life-long endeavor; the more you sail the better you do.
Advanced
The advanced course is new for 2023 and will focus on specific seamanship tasks. In this course you will learn rope handling (knots, proper coiling, use of different rope material), boat handling (getting out of trouble, anchoring, heave to, quick fixes), and sail handling (reefing underway, sail trim). These are skills that set independent sailors apart. Gaining the confidence to calmly analyze a situation and learning how to get out of trouble are important skills to have in your sail bag. Passing this course will give qualified catboaters the key an expanded sailing range, which includes the islands in Little Pleasant Bay. General restrictions may still apply, depending on day to day weather conditions. 
Racing
The Catboat Program welcomes catboaters of all levels to join our laid-back Race Committee for Wednesday evening races. Fun is the #1 prize! Second Place is a sense of community and Third Place is building up your skills, whether as a super crew or novice skipper. The main thing is to have fun; the by-product will be subconscious learning. We do follow rules, but there are no protests, no awards ceremonies or stressful competition. There are cookouts, get togethers, camaraderie, good laughs and another weekly opportunity to set sail.
Cruises
The Catboat Program will organize several Pleasant Bay Cruises based on tides and weather. This is adventure sailing at its best. One of our participants has dubbed this All-Terrain Sailing—you can guess what might be involved! We'll use all of our Sandpipers and pile as many of you in the boats as is safe and comfortable. The cruises will be announced in our Catboat Newsletter and will be posted on our website for registration. 
Additional Opportunities
PBCB participates in several events including the Chatham Yacht Club Regatta and the Arey's Pond Cat Gathering. These events are open to qualified Catboat Program participants as skippers or crew. The level of competition goes up a notch or two in these events, but it is very friendly and fun.
Other events specific to the Catboat Program:
On-water workshops with guest instructors
Winter shore-side lectures

 

Off season Coastal Navigation course