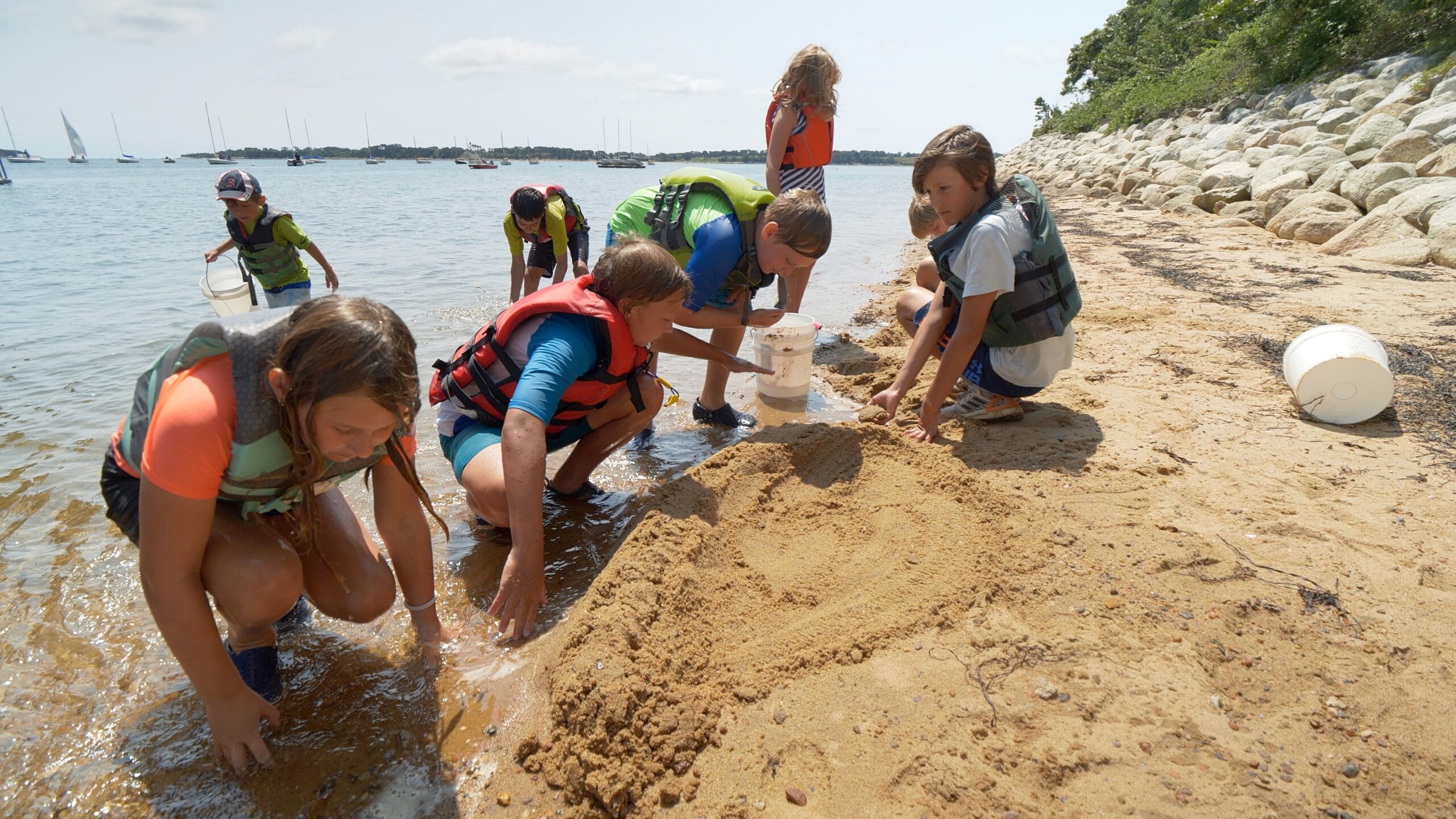 Educational fun on and around the waters of Pleasant Bay
Sailing & Science Summer Camp
Week-to-week, Summer of 2024 from Late June to early August
Monday – Friday, 9:30 AM – 3:00 PM
Ages 8 to 14
To ensure every child has the opportunity to try at least 1 week of our beginner programming, we must limit each participant to no more than 5 weeks of any one beginner level class (Beginner Youth Scots, Beginner Teen Scots, or Science & Sailing). Should your child like to spend more than 5 weeks with us, please sign them up for a different class for the remaining weeks. Unfortunately, our program is still small enough that it is not designed to be an all-summer program: there will be repeating lessons and themes throughout the summer in any one class. We appreciate your understanding as we aim to continue to be accessible to all and provide a high quality experience for program participants.
What could be better than a sailing and science-based summer camp that balances education and waterfront fun? Campers will explore the natural wonders of the Pleasant Bay Estuary on our shoreline, with the guidance and care of our experienced science teachers and summer camp staff.  All summer campers will enjoy a hands-on curriculum of science adventures blended with sailing lessons. Campers will make lifelong friends and form bonds with our wonderful staff and sailing instructors!
During science class, students may explore the amazing properties of water, conduct experiments to better understand wind and weather, build boats to explore buoyancy, use catch-and-release traps to collect data about different aquatic species, or observe a diverse collection of marine habitats. Each week is a little different, though some activities and themes do repeat throughout the summer.
On the water, they will be sailing Flying Scots with an instructor and a handful of other kids. They will also have the opportunity to take a trip on our floating classroom. On the "Friend", your camper will learn about water quality and measure different water parameters, while exploring Pleasant Bay.
Our camp also offers creative outlets including activities like making collages, drawings, or paintings to share data about healthy ecosystems. Students can learn about clouds, erosion, and invertebrates through puppet shows and science songs.  Students are also challenged to find creative solutions like inventing new tools for collecting plankton or building shelters to protect small creatures from UV light. 
PBCB staff make an effort to learn what your child is excited about in marine science and include their interests in our plan.  Our goal is to be inclusive of all learning styles and provide opportunities for students to share our love of science and sailing!
Please note that the sailing portion of camp is a Flying Scot class, comparable to our Beginner Flying Scots classes. If your child is interested in our Sunfish or Opti fleets, please visit our youth sailing page to learn more about those classes.