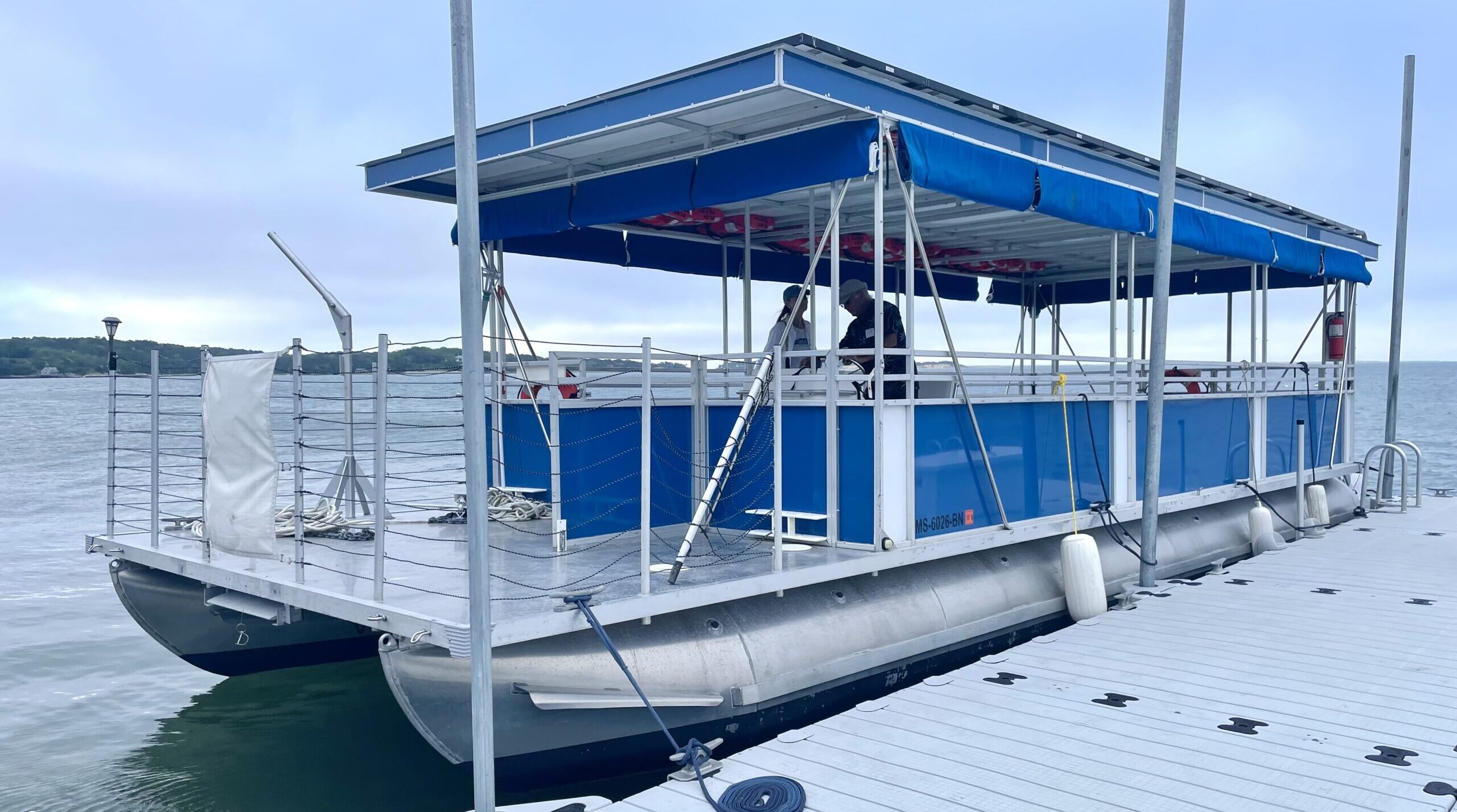 The Friend of Pleasant Bay
We're excited to share Pleasant Bay with even more people, using our comfortable and accessible 37′ floating classroom. The Friend is a solar-powered pontoon boat created and given to PBCB by the Friends of Pleasant Bay. PBCB hosted nearly 600 students on school field trips in spring 2022 and more than 900 participants of all ages in 2023. Among these 900 were groups from: 7 local Council on Aging groups, students from the Latham Center, CapeAbilities participants, seniors from the Victorian House, a group from the Brain Injury Association of MA, as well as participants from Spaulding Rehab. We also welcomed around 600 kids and teens from various programs, including students from Nauset, Monomoy, Sandwich, and our own science campers.
She has 8 lithium ion batteries and 2 Torqeedo electric motors, plus a roof full of solar panels. The Friend runs entirely off of the energy the panels produce which, most days, is far more than enough to get us where we're going! Even on a cloudy day, the boat can run on energy stored in her batteries for hours.
The Friend can comfortably seat 20-25 passengers, plus Captain and crew. Paired with our accessible dock, she's wheelchair- and mobility-aid friendly! The Friend is a great way to expand access to Pleasant Bay, by accommodating larger groups and those needing more stability than a sailboat can offer.
PBCB welcomes groups of all kinds, especially school field trips, non-profits, and local COAs, to enjoy trips on the Friend! If your group is interested in a floating classroom trip, please contact:
For school groups interested in science trips: Science Coordinator Jamie Nye
For adult trips and/or local disability advocacy groups: Vessel Operations Coordinator Suzanne Leahy.