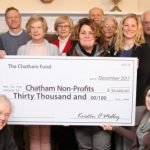 The Chatham Fund, part of the Cape Cod Foundation, has awarded PBCB a grant to support programs that benefit residents of Chatham. The grant supports PBCB's First Sail, Monomoy Community Services and Senior Sailing for Chatham Council on Aging programs–all free sailing and instruction programs for community members who would not otherwise be able to access Pleasant Bay.  Established in 2012, the Chatham Fund awarded a total of $30,000 in grants to ten local non-profit organizations, supporting a variety of programs. 
Click here 
to read the 
Cape Cod Chronicle's 
coverage of these awards.
We are fortunate to have many volunteers with wide-ranging interests and expertise on our team. This month we are shining our Volunteer Spotlight on…ALL OF YOU! On a balmy mid-September evening, we threw a party to thank our many volunteers for their service to PBCB and our communities. All enjoyed a wonderful evening of food, drink, friendship and gratitude for all that we have accomplished together. To see a gallery of photos from the evening, click here.